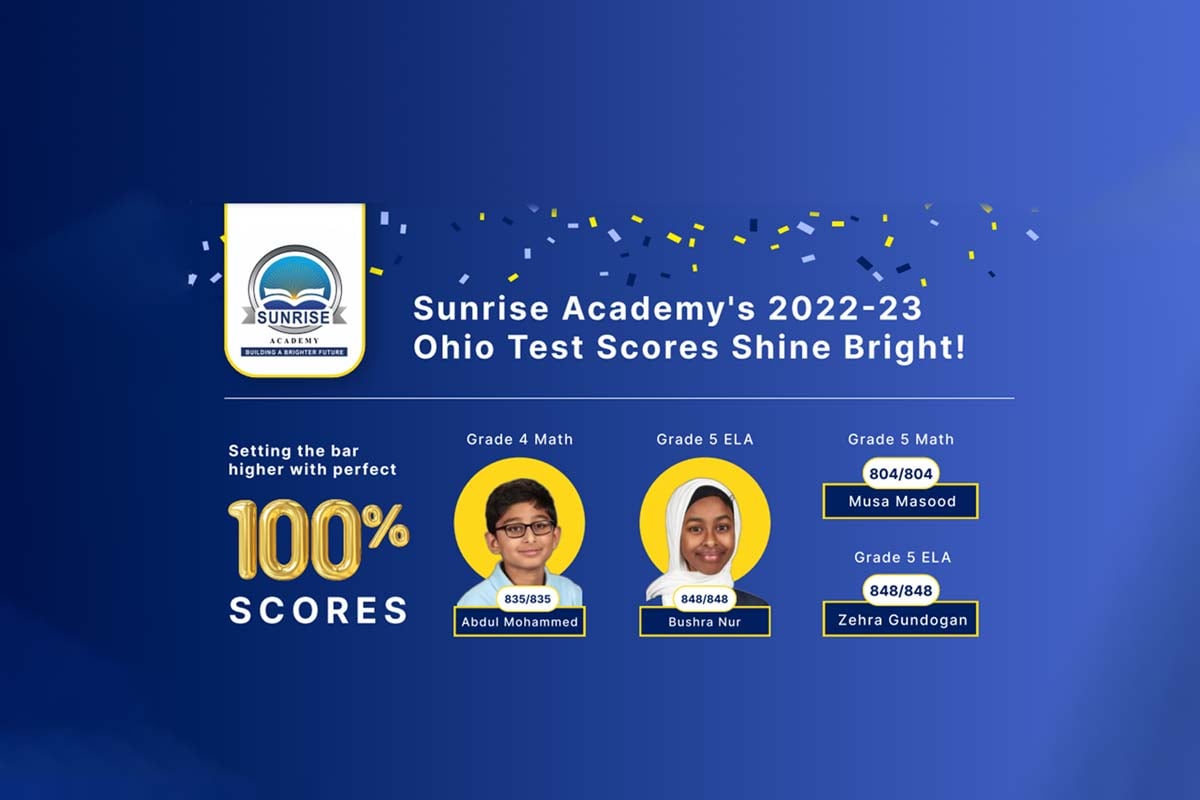 Dear Parents, Guardians, and Members of the Sunrise Academy Community,
It is with immense pride and excitement that we share the remarkable achievement of our students in the 2022-2023 Ohio Test Scores. At Sunrise Academy, we have always strived for excellence, and this year, our students have once again set the bar higher by achieving perfect 100% scores across various grades.
We extend our heartfelt congratulations to our dedicated students for their exceptional performance on the Ohio State Tests. Their hard work, commitment, and determination have truly paid off. We are thrilled to announce that our students have not only met but have surpassed the Ohio state average scores, showcasing the effectiveness of our rigorous academic programs and the dedication of our talented educators.
The dedication of our educators cannot be understated. Their commitment to providing a nurturing and academically enriching environment has undoubtedly played a crucial role in shaping our students' success. We extend our appreciation to them for their continuous support and unwavering commitment to our students' growth.
It is also important to recognize the role parents and guardians play in our students' achievements. Your support, encouragement, and active involvement have contributed to the overall development of our students, and we are truly grateful for your partnership.
We believe that these outstanding test scores reflect not only the academic prowess of our students but also their holistic growth as individuals. At Sunrise Academy, we are committed to nurturing well-rounded individuals who are not only academically capable but also socially responsible and compassionate members of society.
As we celebrate these remarkable achievements, let us also remember that excellence is an ongoing journey. We remain committed to providing an exceptional education that empowers our students to continue striving for excellence in all their endeavors.
Once again, congratulations to our students!
Ohio Test Scores 2022-23 - Click to download PDF
A Proficiency Snapshot: OST 2022-23 - Click to download PDF
Detailed Proficiency Level % OST 2022-23 - Click to download PDF